Our specialist odour laboratory is critical to the services we provide at Silsoe Odours. As such, the quality of our results is at the heart of all we do. We conduct all odour measurements and testing at our bespoke laboratory facility at Wrest Park in Bedfordshire. The odour lab was the first in the UK to receive UKAS accreditation, according to BSEN13725, in 2005. We continue to provide industry-leading excellence, holding UKAS accreditation for sampling and testing.
SPECIALIST ODOUR LABORATORY
A Strong Heritage
You will find the odour laboratory at Silsoe Odours in the grounds of English Heritage's Wrest Park in Silsoe, Bedfordshire. We work on the site previously held by the world-renowned Silsoe Research Institute.

Our Director Robert Sneath has occupied the premises here since 1974, in various forms. He also acts as the UK expert for the CEN workgroup, responsible for developing the European Standard for olfactometry, EN13725:2022. Robert has held this role since 1995.
Specialist Laboratory Design
The laboratory has a bespoke design that caters solely to odour analysis. We have a specialist pre-lab workshop area, a state-of-the-art olfactometer and a meticulously controlled lab environment. Not only that, but our odour panellists are also carefully selected and trained.

As a result, our odour testing services are second to none. We provide accurate results that meet international olfactometric standards and are UKAS accredited.
Controlled Environment
We are careful to control the environment in our UKAS accredited odour laboratory. We have a specially designed air conditioning system which manages temperature and airflow.

In addition, odour panel members comply with strict rules when working in the lab.

From food and drink consumption to washing powder to reading materials, we manage all variables to ensure the laboratory remains odourless.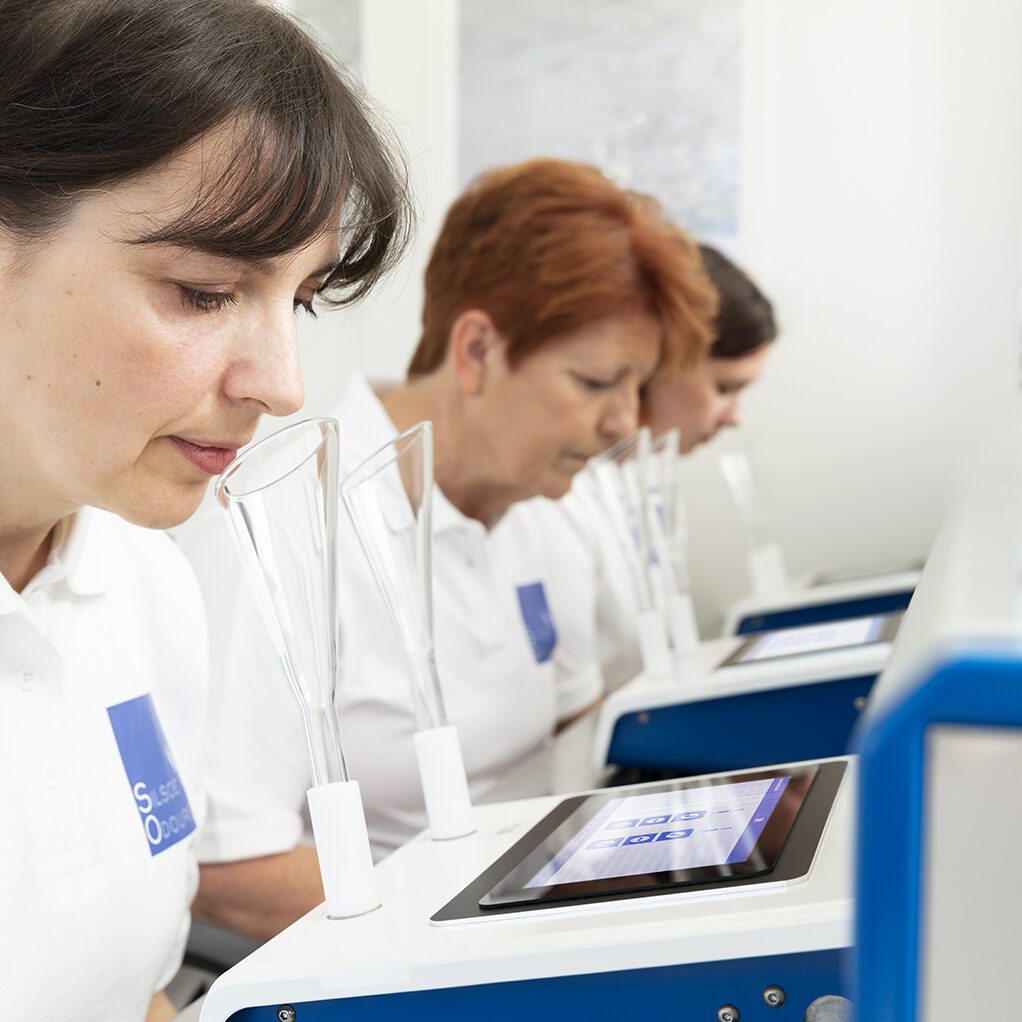 Accredited Odour Laboratory
Our consultants are at the forefront of the odour measurement industry with their technical expertise. We have maintained UKAS accreditation for nearly 20 years, reflecting the odour laboratory's accurate results, proficient analysts, and robust methodology. We were the first odour lab in the UK to receive UKAS accreditation to ISO17025, in line with BSEN13725:2022. We also participate in the international inter-laboratory comparison of olfactometry each year. The test measures the precision and accuracy of odour testing data for laboratories worldwide. The Silsoe Odours lab never fails to produce good results.
Odour Measurement Legislation
One of our key quality control activities is ensuring we are always at the forefront of the latest legislation and regulations relating to odour measurement. Our odour consultants have a tremendous amount of experience in this field, across many different industries.

Silsoe Odours Director Robert Sneath actively participates in developing European Standards on olfactometry. Our commitment to leading the way gives our clients complete confidence in our odour laboratory services.
ODOUR MEASUREMENT SERVICES
We have a comprehensive range of odour measurement services available. Our laboratory services complement our odour consulting and sampling services to give you complete results. Once an odour sample reaches the laboratory, we use olfactometry to analyse it. Six odour panel members assess the odour at gradually decreasing dilutions. The laboratory team can analyse these samples for several different features and characteristics.
The Odour Panel
We have a dedicated and friendly panel of qualified odour specialists who are integral to our olfactometry testing services. The odour panel analyse all our laboratory samples. They also conduct on-site field odour surveys led by our team of odour consultants. We carefully select odour panel members according to the requirements of European Standard BSEN13725:2022. Subsequently, we check their continuing suitability at the beginning of each session.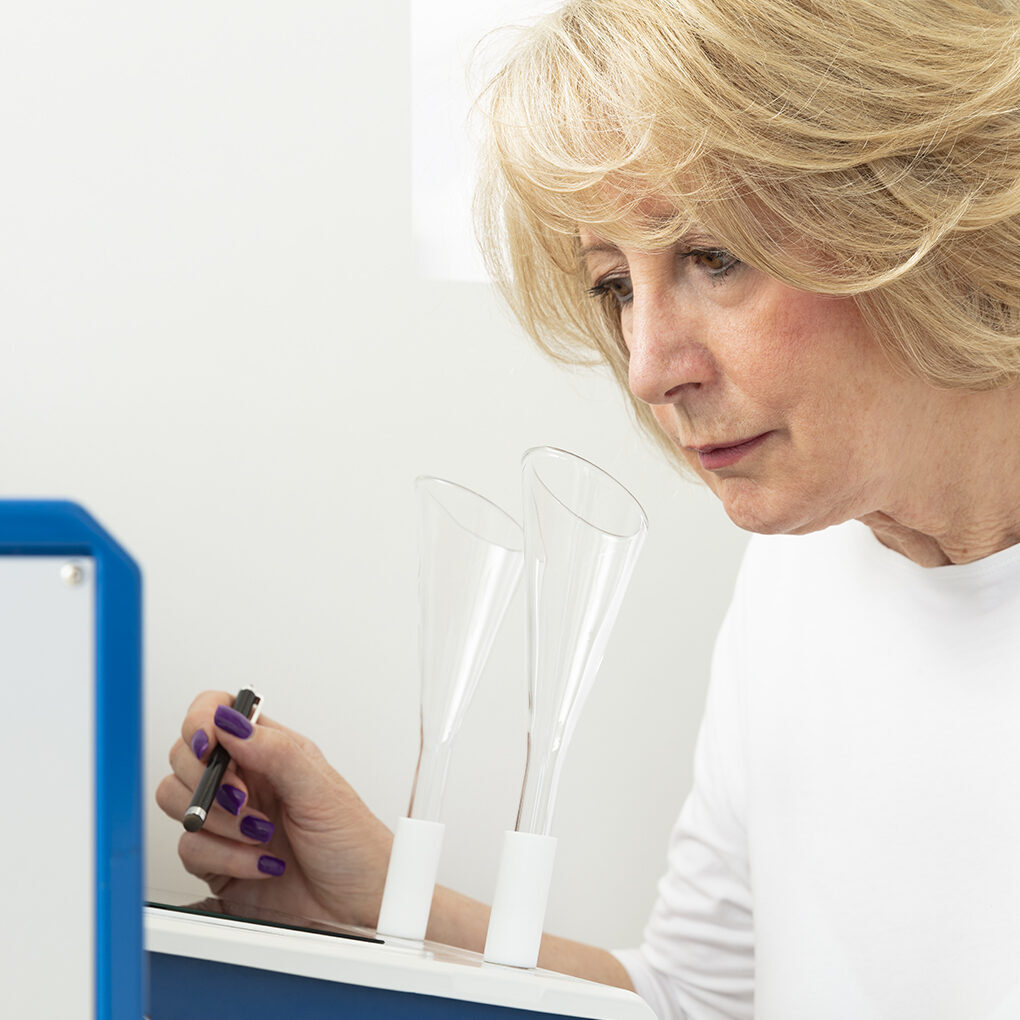 Odour Concentration
The odour panel is presented with the odour sample and will assess it using olfactometry until they establish an odour concentration. In doing so, we provide each emission source with an objective number. You can then use this when calculating emissions.
Chemical Analysis
We use a process of gas chromatography-mass spectrometry (GC-MS) to analyse the chemical mixture in an odour sample. Our analysis will give you a breakdown of the individual compounds within the odour sample. You will find this helpful when designing odour abatement equipment.
Odour Detection Threshold
Establishing an odour detection threshold gives an odour sample a numerical value. This value provides valuable data which you can use to support the design of odour abatement equipment.
Hedonic Tone
We generate a 'score' for an odour, which categorises the level of pleasure or displeasure it creates once it meets the human nose. This information can help you understand how people are likely to perceive any odours produced by your processes.
Odour Intensity
This service gives a value to the perceived strength of an odour, from very faint to very strong. You may find it useful for safe space planning and validating dispersion modelling results.
Odour Characterisation
Our specialist team of odour panel members describe an odour at just above the odour detection level. You can use this to validate odour complaints, develop odour management plans, and satisfy the regulator.
LABORATORY ONLY SERVICES
While we offer a fully integrated approach to odour sampling and analysis, we also offer odour laboratory testing as a standalone service. If you are familiar with odour sampling and your methodology complies with the relevant olfactometry standards, then we can analyse the samples you have collected in our laboratory.
ODOUR SENSITIVITY TESTING
If you, or anybody in your organisation, are involved with assessing odour, you will need to consider odour sensitivity testing. We provide you with your individual level of sensitivity to odour, compared with the general population. If you assess odour, you will need this to comply with European Odour Standard BSEN13725:2022 and your odour management plans. With odour sensitivity testing, you can also enhance your personal development (CPD) activity.
Silsoe Odours are invaluable to me as a partner for testing odour samples. I use their laboratory services, on average, several times each month, for many of my clients.

Silsoe Odours are a great source of expertise and allow me to offer clients an integrated odour consultancy experience, without the associated overhead and resourcing costs of operating my own laboratory.

They understand both my needs as an independent environmental consultant, and those of my clients – whether utilities or multi-national operators.

The flexibility and ease of working with Silsoe Odours is hugely valuable. I don't hesitate to recommend their services.
Director, H&M Environmental Ltd
I've always been happy with the service provided by Silsoe Odours and have engaged them both at 2 Sisters Food Group and in my previous position. They are professional, very knowledgeable and provide an experienced crew.

We recently experienced some pressure from the Environment Agency and the local community around an increase in odour complaints.

I asked Silsoe Odours to conduct some odour sampling, to help us prioritise the most odorous sources. I would be happy to recommend their services and indeed have done recently to our Sunderland site.
HSE Manager – 2 Sisters Food Group