ODOUR STUDY DAY COURSE
The Odour Study Day has been developed by leading odour professionals based on their own extensive experience. It provides clear, up-to-date guidance on the principles, concepts and methods of odour management.

This odour management and control training course is accredited by CIWEM and is endorsed by the Institute of Air Quality Management.

We deliver the Odour Study Day at our odour laboratory in Bedfordshire, in partnership with RSK-ADAS. Please note that we are not currently offering public courses. However, we are conducting Odour Study Day courses for individual companies on request.
In 2019, 99% of participants recommended the Odour Study Day Course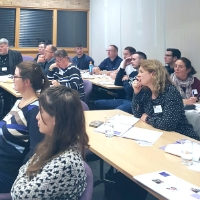 WHO IS IT FOR?
The Silsoe Odours Study Day Course is a one day course beneficial if you are involved with odour management. It enhances your understanding of everyday applications and sets the key issues into context. Specifically, it benefits regulators, operators of odorous industries, local authorities, consultants, air quality professionals and abatement equipment suppliers.
WHAT'S INVOLVED?
The Odour Study Day expands your theoretical knowledge and practical skills relating to the management and control of odours.

We use a combination of presentations from industry professionals, industry-specific case studies and group discussion sessions.

There is also a practical session in the Silsoe Odours UKAS-accredited laboratory.
VISIT OUR UKAS ACCREDITED ODOUR LAB
As an Odour Study Day delegate, you'll have the opportunity to take part in a taster Odour Sensitivity Test at our on-site laboratory. This will give you an indication of your individual sensitivity to odours and is especially useful for those involved in assessing "nuisance" odours.

We can also now accommodate a small number of complete Odour Sensitivity Tests at the Odour Study Day.
WHAT'S IN IT FOR ME?
The primary areas of learning including sampling and odour measurement, dispersion modelling, odour complaints, odour abatement plant performance, systematic field odour surveys, and odour and EPR/IPPC.
At the end of the course, you will:
Be familiar with the objective measurement of odours
Understand how measurement and modelling techniques can be used to address odour nuisance and planning problems

Be familiar with odour regulations and understand how olfactometry fits within this
Have seen, and experienced, how odour concentration analysis is undertaken
Receive a certificate including the results of your taster Odour Sensitivity Test, and showing your gained CPD hours
TESTIMONIAL FEEDBACK FORM
Have you attended the Odour Study Day, or used one of our odour services? We'd love to hear from you! Please share your feedback with us.