A BRIEF HISTORY OF SILSOE ODOURS
As you know, the world is very different at the moment to what any of us have known before. So, we thought we'd take this time to reflect on our history working in odour services. We're looking back at where our team started in odour, how Silsoe Odours came about and how things have changed over the years. Our Director, Robert Sneath, created Silsoe Odours in 2005 (we'll come on to that later). Before that, Robert spent many years at the Silsoe Research Institute.
Originally starting life as the Institute of Agricultural Engineering at the University of Oxford, the institute had many iterations and locations. It was internationally renowned for its research in agricultural, food processing and environmental engineering. By the time Robert Sneath joined in 1974, it was based at Wrest Park in Bedfordshire. This is the same site the laboratory at Silsoe Odours occupies today. For a more detailed history of the institute, click here.
SILSOE RESEARCH INSTITUTE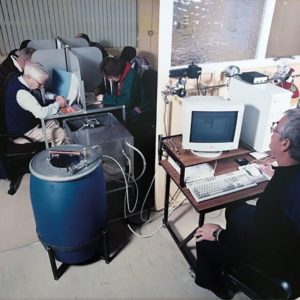 In 1991 it became the Silsoe Research Institute, and Robert was appointed as the Head of Olfactometry. In the ensuing 15 years, Robert led research in all areas of olfactometry and odour services. He is still recognised as a leader in his field and has contributed to many publications and conferences.
Perhaps most notably, Robert acts as the UK expert for the CEN workgroup which is responsible for developing the European Standard for odour, EN13725. He has held this role since 1995.
You can find out more about Robert's work here and about the european odour standard EN13725 here.
ODOUR SERVICES AT SILSOE ODOURS
In 2005, the Silsoe Research Institute closed. Robert Sneath decided to continue its olfatometry legacy. He created Silsoe Odours and began offering a range of odour services. He also gained UKAS accreditation for Silsoe Odours – the first odour laboratory in the UK to achieve this. We have maintained this accreditation ever since. You can view our current schedule of accreditation here.
In 2020, Silsoe Odours has expanded into a highly respected family-run odour consultancy. Robert is joined by his children James (Technical Manager) and Victoria (Project Manager). Together they lead a skilled team of laboratory operators, odour assessors and administrative staff. They deliver first-class quality and service and achieve consistently excellent feedback from clients. You can view client testimonials here and the results of this year's annual client survey here.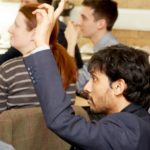 When Robert founded Silsoe Odours, he also created the Odour Study Day. Initially, he did this to meet training requirements for the Environment Agency. However, he has now expanded the programme to offer odour training to a wider audience. You can join the training if you're a local authority or operator. We also still cater for regulators and you will find the course useful if you're involved with any area of odour management. Robert joins several other specialist odour speakers. Namely, Steve Peirson from RSK, Professor Philip Longhurst from Cranfield University, Deborah Sharples from Birketts and James Sneath from Silsoe Odours. The course is now CPD certified. Plus, it boasts endorsement from the IAQM and accreditation from CIWEM. You can learn more about the speakers and the Odour Study Day here.
LEARN MORE ABOUT ODOUR SERVICES
The Silsoe Odours laboratory has now re-opened follow a period of closure in line with Covid-19 guidelines. We have new procedures in place to ensure we can adhere to social distancing. So, if you'd like to visit us for odour sensitivity testing or would like to discuss any odour services, please give us a call. We are happy to talk to you about any odour queries. We can also help with your odour planning activities, which may be of particular interest if you are still shielding or working from home. Please do give us a call on 01525 860222 or click on the button below to get in touch. You can also stay up to date on LinkedIn, Twitter and Facebook. We share our latest blogs and industry information regularly.
Article updated 7th July 2020.